Div 1 matchup was a great matchup of a Pistons team coming out of Division 2 unsure of if they will succeed where many Div 2 teams had failed their first season, could they make it the whole way? HELL YES!! they made it through the playoffs, past Haz Beanz the #1 team and stood facing the mighty Blouses, defending champs, a good mix of Veteran and young dudes who can hit the 3 and ball. It was close, too close…
With the lead switching, and Blouses barely having control, they bounced around till Blouses has the score in their favour, 34-29 at the half time break, AL B on a big 16 point 1st half both teams playing opposite tactics, 7/15 field goals for blouses but 4/14 3s, whilst PIstons 12/27 inside 2pointers and 1/7 3s..Pistons had more rebounds, but there was still nothing in it.
9 mins left in the 3rd Dan Muller hit 2 3s on an unanswered run to make it 40-37 Pistons up, at the end of the 3rd Pistons had the lead after after Reggie hit some bonus free throws, Big quarter for the Pistons, Greg M on 13 and Peter T on 12 so far.
With 3 and a half minutes left Blouses got back on top with a Tim Talbot and1, Greg hit a 3, evened up, then a 5-0 run sparked by a AL B baseline 3 and a Harro fastbreak. THe game played out to the end, a marginal win but a solid victory for the back to back champs Blouses!
Players step up in the playoffs, some shrink, but these ballers made the difference; For blouses, Al b top scored with  23 points on 50% shooting with 5 threes, Matt harro a HUGE game, 18 points and 15 rebounds, the captain leading the way, Tim T an efficient 50% for 12 points, Greg Mcdonald had 16 by the final horm and 15 rebounds for a solid double double, Peter T also had double double honors with 12 points and 14 boards, Reggie notched 15 points 5 assists and 4 steals!, Dan Muller 12 points 8 rebs in the unlucky loss, dreams shattered!
Amazing Effort by the Pistons to get to the grand finals in a tough division, coming from div2 to become a contender to the crown! but Blouses, all class with a back 2 back with, is this a dynasty in the making? stay tuned next season!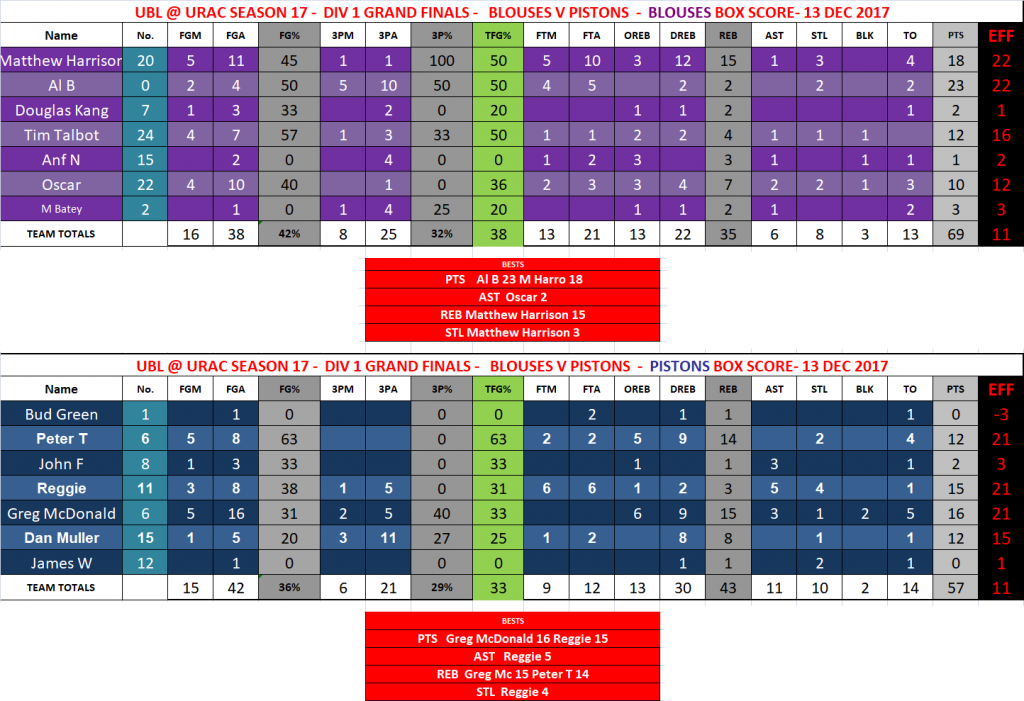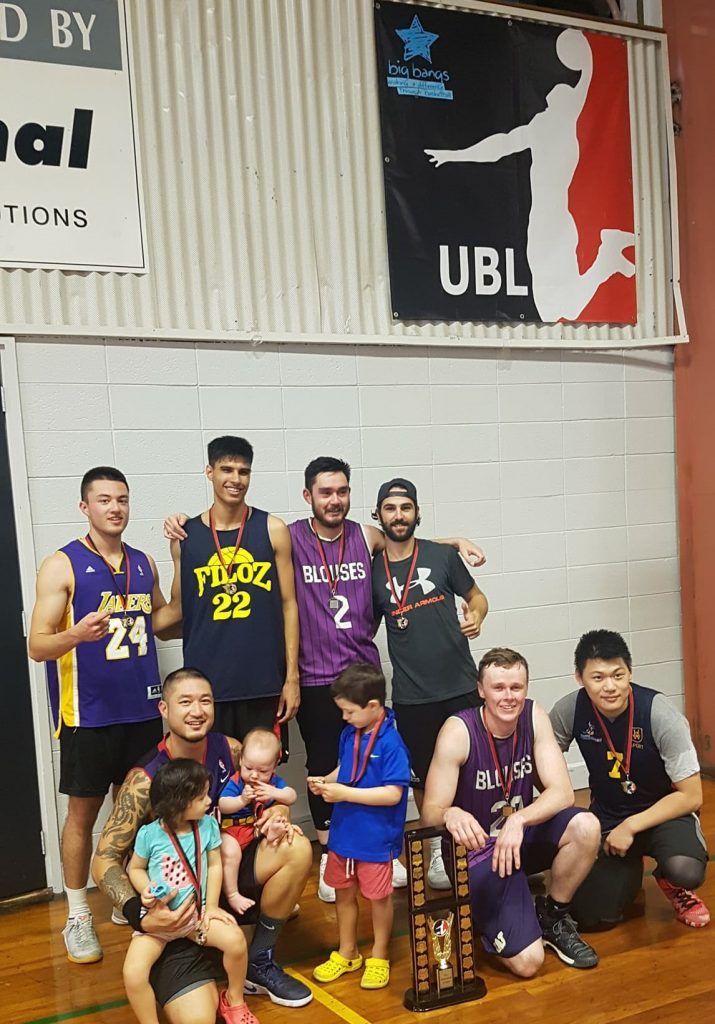 Div 2 was a showdown of 2 teams that have kept their swagger through the season, Cunning Ultra New Team and F1L0z…
The First quarter everyone got warmed up especially Brett B with 11 points to give the FIL0z the 19-12 lead with Jarrod with 7 boards already.
39-25 by the end of the end of the half, Brett with 23 & 7 3s so far, Jarrod had 10-11 a double double already, CUnning Ultra owning the glass 27-11 but more TOs and less points allowed F1L0z to get the lead. The points went back and forth and Only 11 points in it after 3 quarters,
But 4th quarter is when it all went down! Cunning Ultra made a mad run to bridge the gap , FIL0z up only 4 points, 52-48 with 3 mins left then Andrei hit a dagger 3 then Oscar got a quick steal and bucket for a 9 point lead, that would do it for the rest of the match as the FIL0s held on on to win behind some strong plays
FIL0Z performances that helped then to victory include Brett B with 23 points, Oscar with 8 points 7 rebs and 4 assists, which was enough to topple the game that Cunning Ultras crew came with, Jarrod on a huge huge game, 11 points, 22 Rebounds! 4 assists and 3 blocks on 50% shooting! well down, Marty S pushed his way into a 11 points 5 reb game finding it hard to get his flow going, Connor got 11 rebs to help out, but it wasnt their time, well done and great effort!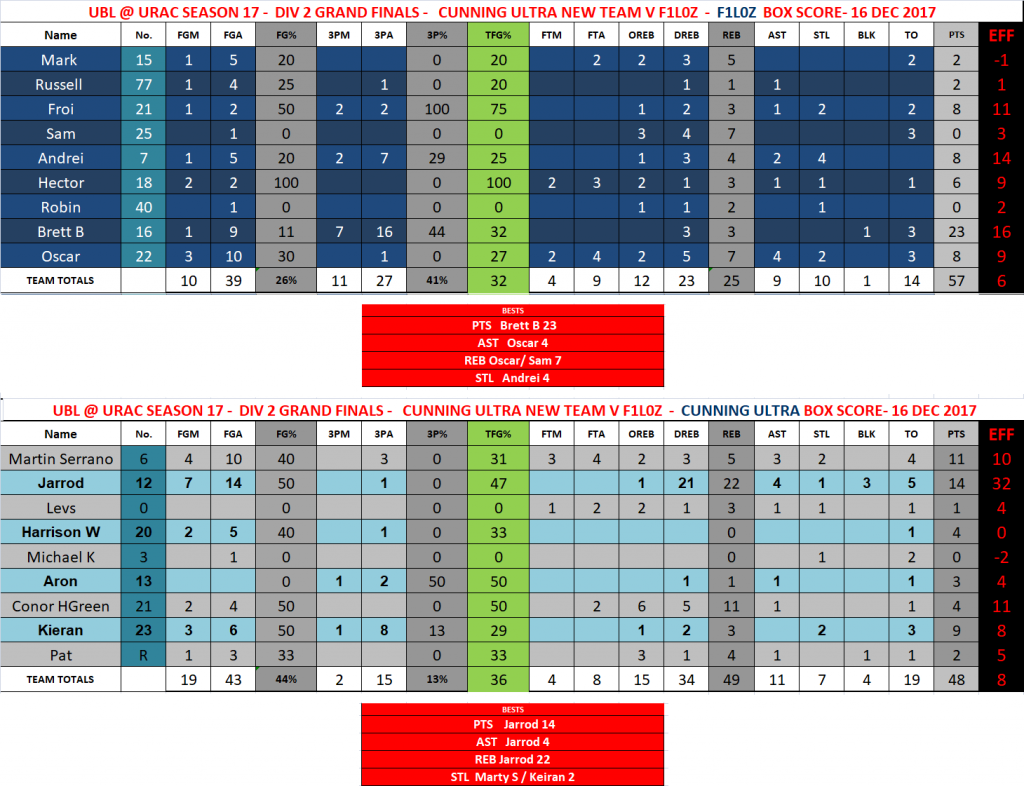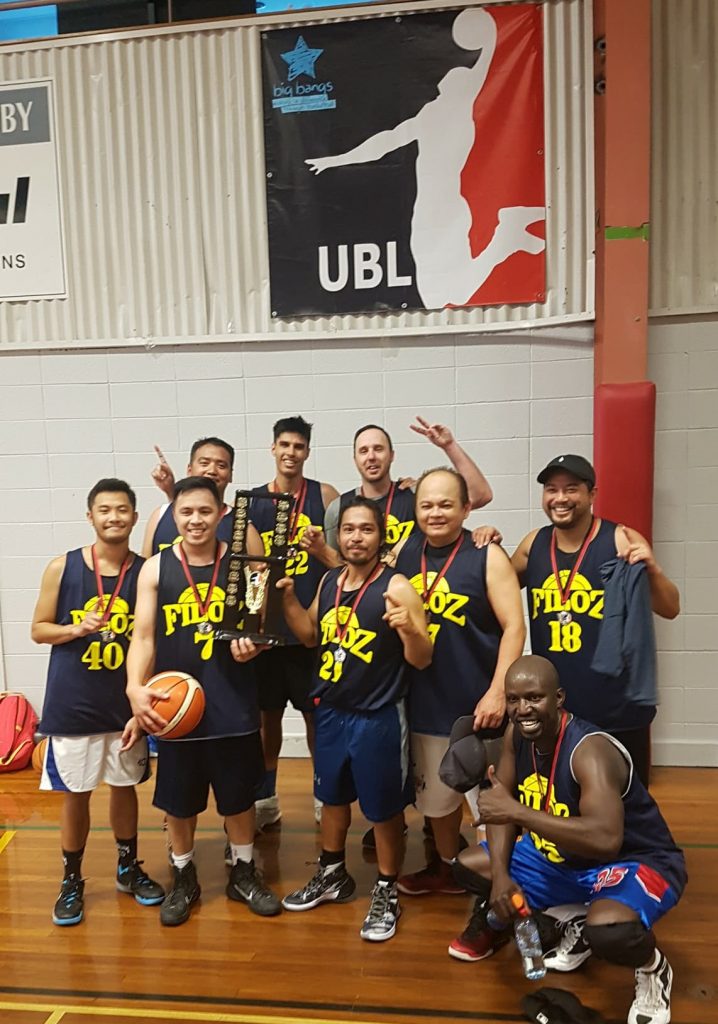 THANKYOU AGAIN to all the Ballers and people that helped out with UBL this year, its the community that makes it what UBL what grown to be, a friendly place to ball out and get buckets, Have a safe Christmas and New Year and seeya on the court in 2018!
Stay tuned for the All star game mid January!
cunning ultra new team
jarrod 14