Welcome to the Grand Finals of Wed UBLs 11th Season! The final 2 teams in each division face off and take each other on for 48 minutes for ultimate glory!
Division 1 saw 2 teams face off one team an established dynasty as far as wednesday night goes, Hogz stood tall to get through some big challenges to face off against Skyhookers  who have been in the comp for almost 5 years since the batteries galore days, who had an easier run to the finals but were raring to go when the whistle went for the tip, the game started with both teams trading buckets, Skyhookers getting out running on the break and raining threes.
By the end of the 2nd quarter, or the first half, it was 30 22 going the way of the SKyhookers, Macka Rae led scorers with an efficient 13 as dobbie pitches in  10 getting his buckets from outside. THe Hogz kept in the game with a big focus ont he outside shot Azza and Nate had 5 points each but Hogz put up 16 threes @ 25% and only 10 rebounds compared to skyhookers 22 rebounds and 40% on 3s.
The Second half followed suit and Hogz kept trying to bridge the gap with 3s and some inside work from Elliot, but the shots werent coming in bunches, and SKyhookers kept up the tempo. Azza P ended up with 10 points 4 steals, Nate P on 9 points, the rebounding a massive 45-19 giving skyhooker all the 2nd chance points and stopping the Hogz in transition, Dan W got 7 and just couldnt get his team to rally a run.
TOp Score on Skyhookers goes to Dobbie who ended up on 18 points and 60% shooting from inside and out, Macca Rae got 17 and 5 rebs, Doug H 15 points 6 rebounds 3 assists, and Sam H eating Glass with 10 rebs! SKyhookers go on to win in big circumstances, and after so many years of building and rebuilding, fate decided it was their time, so CONGRATS to SKYHOOKERS, Div 1 CHAMPIONS! for season 11!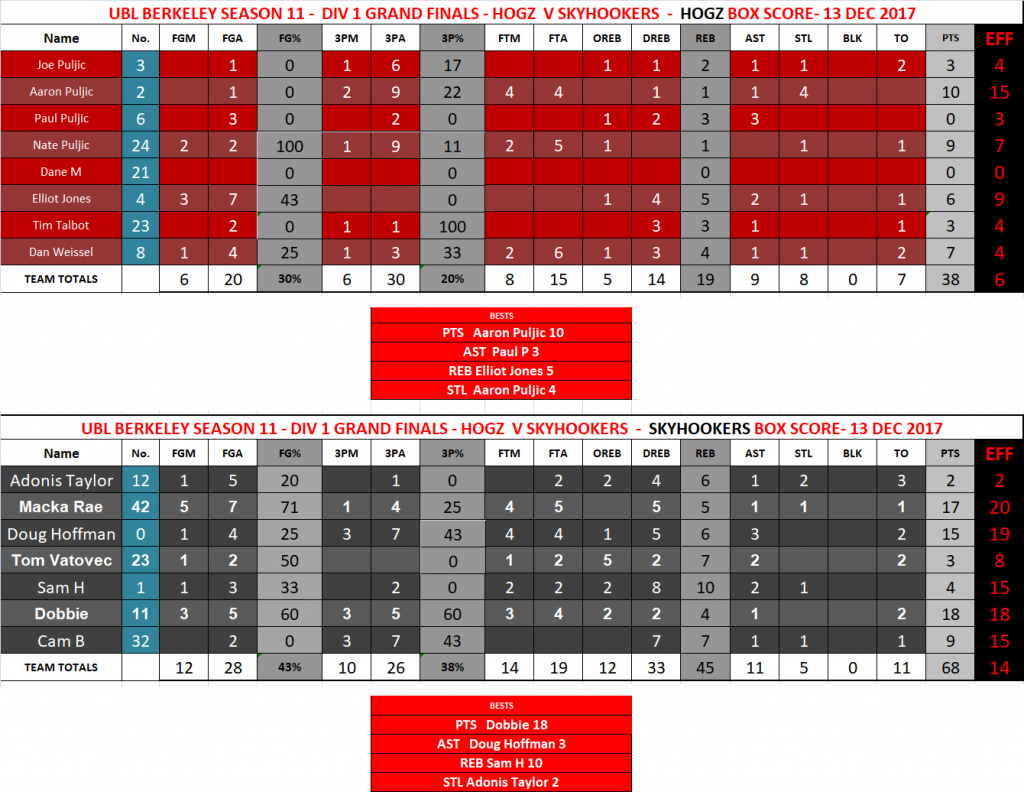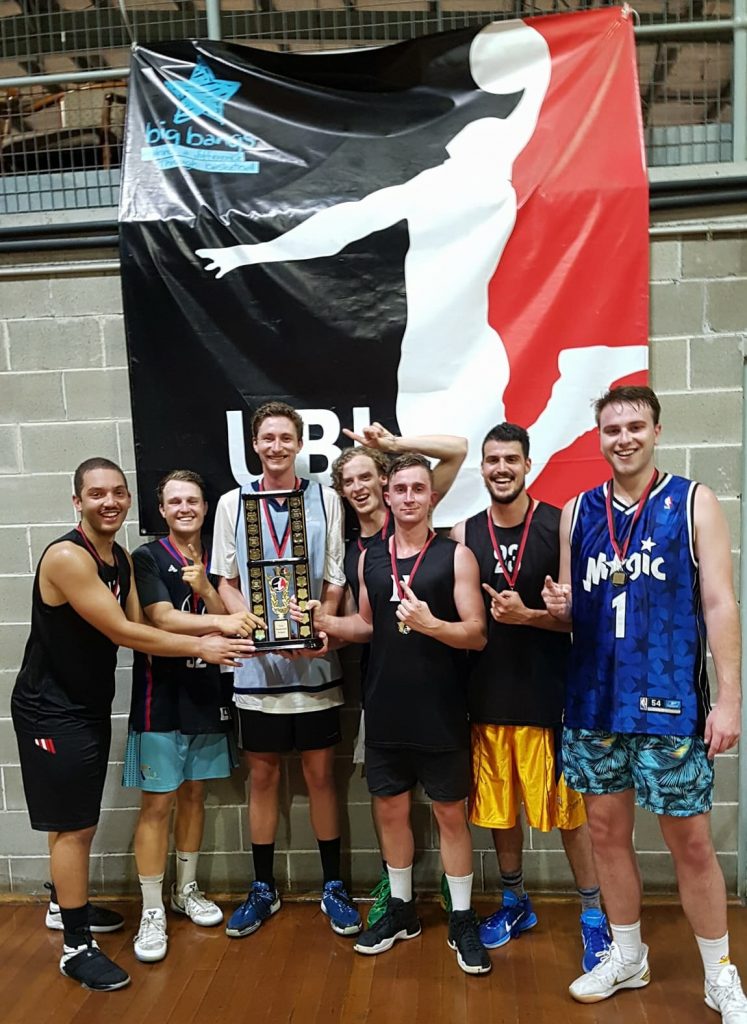 Division 2 
The top two teams are the best Div 2 had to offer, it was the reigning champs ThreeBallers, and the Splash crew who are looking for their WEd night glory and hoped this would be the night.
The game started out with the ThreeBallers getting hot to start and getting some consistent movement, but paul G splashed a few threes and the momentum kept shifting, both teams looking for the shot but with the defense being played, it was hard to get some cuts going.
By the end of the 1st half the score was 27 -25 3Ballers way with only 1 bucket in it, Shannon  had 13 at the half to lead scorers, and Paul G on 9 as Splash fought to stay in contention, the second half started and the Splash crew came out looking for a burst of energy, but Oscar and the Bigs of Ballers kept the wall up and the glass owned as they pulled down slightly more rebounds.
It was 46-39 at the 3rd quarter buzzer, Doug leading with 16 Paul G on 15, but the fourth quarter the lead was established and it looked like another Splash dissapointment was to be witnessed. 
At end game Paul G had 16 points, 7 rebounds, Adrian G on 14 and Ahmad on 10, a massive 34 3s attempted, it just wasnt splashing this night, as they bow out standing tall to have made it to the final game, great season SPlash!
ThreeBallers Win!!! SOlid victory highlighted y performances by Doug H on 18 points 10 reb double double, OScar on 15-10 double double, Shannon on 15 in the win, Aron G proud of his crew and ready for the next challenge!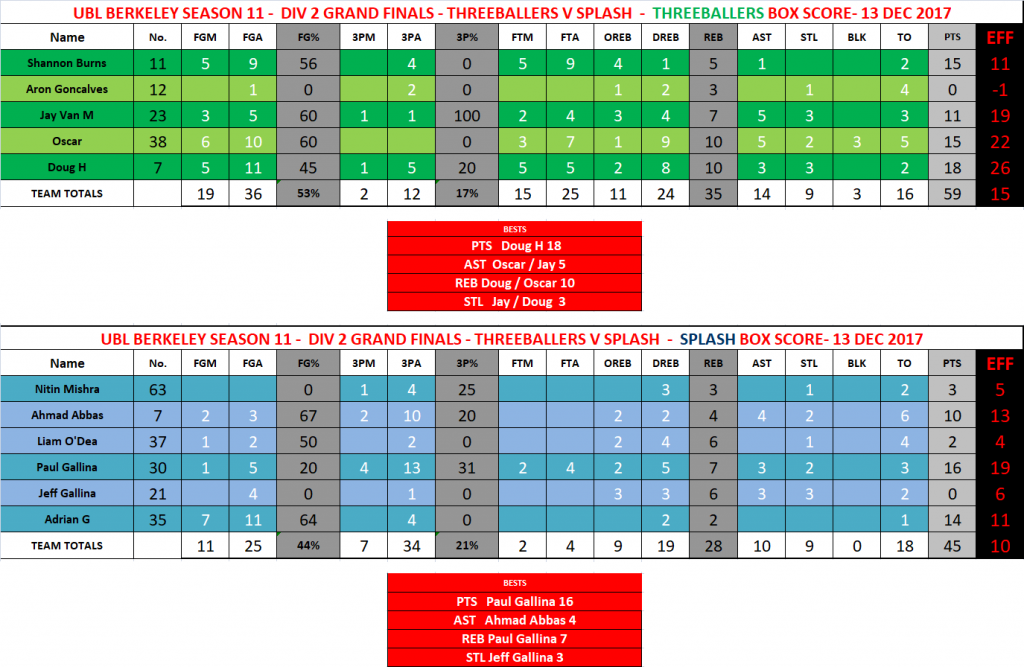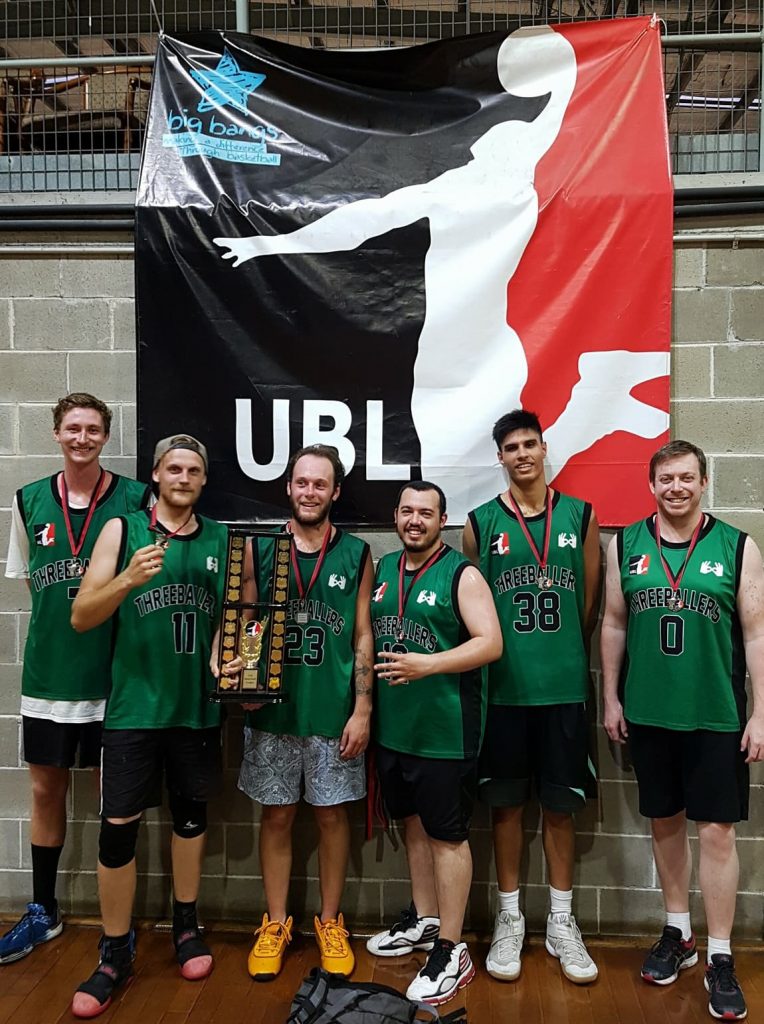 Skyhookers
dobbie 18 macca r 17